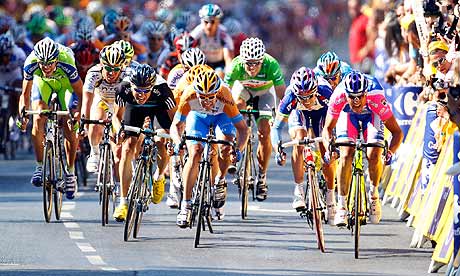 Photograph: Bogdan Cristel/Reuters
Ned Boulting's
Piece
in the Telegraph
"I have to confess to feeling a little relieved. There are elements of my work which I wouldn't swap with anyone at any price. But there are others which I'd happily swerve, given the choice. Chasing after Mark Cavendish when he's blown his chances of a stage win falls firmly into that category.
Even from a distance of many thousands of miles, and through the filter of a TV replay lens, I could instantly identify all the hallmarks of a seriously miffed Manxman. The way his shoulders briefly slumped as he knew Petacchi had got the better of him, before he sat up, his teeth set in an agonised grimace of frustration. Even though he was no longer sprinting flat out, he still probably crossed the line at 35 mph.
In that instant, I thought of my colleagues on the finish line, covering the Tour for ITV. Intuitively they would have set off in chase: a reporter wielding a microphone, a sound engineer with a weighty mixer strapped round his waist cabled to a cameraman lugging a 25lb camera on his shoulders. Dodging team cars, fans and other TV crews, not to mention the other 190+ members of the peloton all streaming past, they would be in a comic, lumbering, flat-out sprint for the HTC Columbia Team bus, which might easily have been situated a kilometre away. All for the big prize: The Soundbite.
They caught the briefest of glimpses of Mark Cavendish, by all accounts, entering the side door of the bus in what has been described to me by my friend and colleague Matt Rendell, as an "aero-tuck" which enabled him to escape the clutches of the media at a speed he hadn't been able to replicate in the closing 100m of the sprint. Shortly after that a hemlet flew through the air, and landed on the ground at their feet. They waited for some time in the heat of the afternoon for a comment, before giving up and going off in hunt of easier prey.
Cav and Matt have a little history, it must be said. Not that that had anything to do with it on this occasion. Indeed, Cav devotes the best part of a chapter of his autobiography to dissecting a post-stage interview from the 2008 Tour which Matt had the misfortune to conduct. It's probably best for all concerned if we don't pick away at old wounds by re-printing it here (you'll just have to buy his book, "Boy Racer"). The questions, for the record, were perfectly reasonable. The answers, though terse, were perfectly reasonable too. It's just in the nature of an Alpha-male like Cav that he doesn't enjoy talking for long about failure. Fair enough, too. He's an athlete, for God's sake. Not a philosopher.
But, it was a sobering performance yesterday, for sure. OK, his lead-out train has been diminished by the absence of both Kim Kirchen and George Hincapie, but there wasn't much wrong with the work of Grabsch and Renshaw et al. In fact, he was beaten fair and square. And comfortably, too. Not since his maiden Tour of 2007 has he finished so far off the pace of a bunch sprint. Something's very definitely wrong. We may look for answers everywhere: his winter dental problems, his dimished team, his feud with Andre Greipel, his fractured relationship with a section of the peloton. He may not even know the answers himself.
Still, I hope he starts winning in time for my re-insertion on the Tour (I join the race on Tuesday). Otherwise, I might have to start interviewing Robbie Hunter as a potential stage winner. Now there's a man who once signalled through the window of a bus that he'd like to cut my throat. But that's another story, for another day."